History
The SCOTT-SRAM MTB Racing Team (former SCOTT-Odlo MTB Racing and even earlier SWISSPOWER) has a long history in mountain bike racing. It all started in 2002, when Thomas Frischknecht became the face of SCOTT's racing program to start the SWISSPOWER team togehther with former national coach Andi Seeli. The team's philosophy of developping young talented riders from Switzerland such as Florian Vogel and from 2003 on Nino Schurter, bringing them into a professional structure turned out into a success story which lasts until today, creating National, World Cup, World and Olympic Champions.
While Olympic and World Champion Nino Schurter takes the leader role, team manager Thomas Frischknecht runs the most successful Cross-Country team on the Worldcup circuit with a lot of experiance. Olympic and U23 World Champion Jenny Rissveds is the only woman amongst high profile riders like Michiel van der Heijden from the Netherlands (2014 U23 World Champion, Dutch Champion), Andri Frischknecht and Matthias Stirnemann, the later being the latest addition to the team. Cyclo-cross specialist Marcel Wildhaber completes SCOTT-SRAM MTB Racing.
Innovation
SCOTT-SRAM works with its riders and an experienced team of specialists closely with renowned partners from the bicycle industry. The team's ideas flow directly into the product development of SCOTT, SRAM, ROCKSHOX, ODLO, DT Swiss, Maxxis and Ritchey. SCOTT-SRAM set some new standards with some of their developments. "Frischi" won the first ever Mountain bike Marathon World Championships in Lugano / Switzerland in 2003 – at the time on a revolutionary new bike with an entirely new concept of a shock that was adjustable into three different modes (lock-out mode, all-travel mode, and traction mode- today known as TwinLoc), the SCOTT Genius. The use of "collès" in the sport of mountain biking or the 27.5" wheel size, which has become a standard in the mountain bike industry, just being one of them.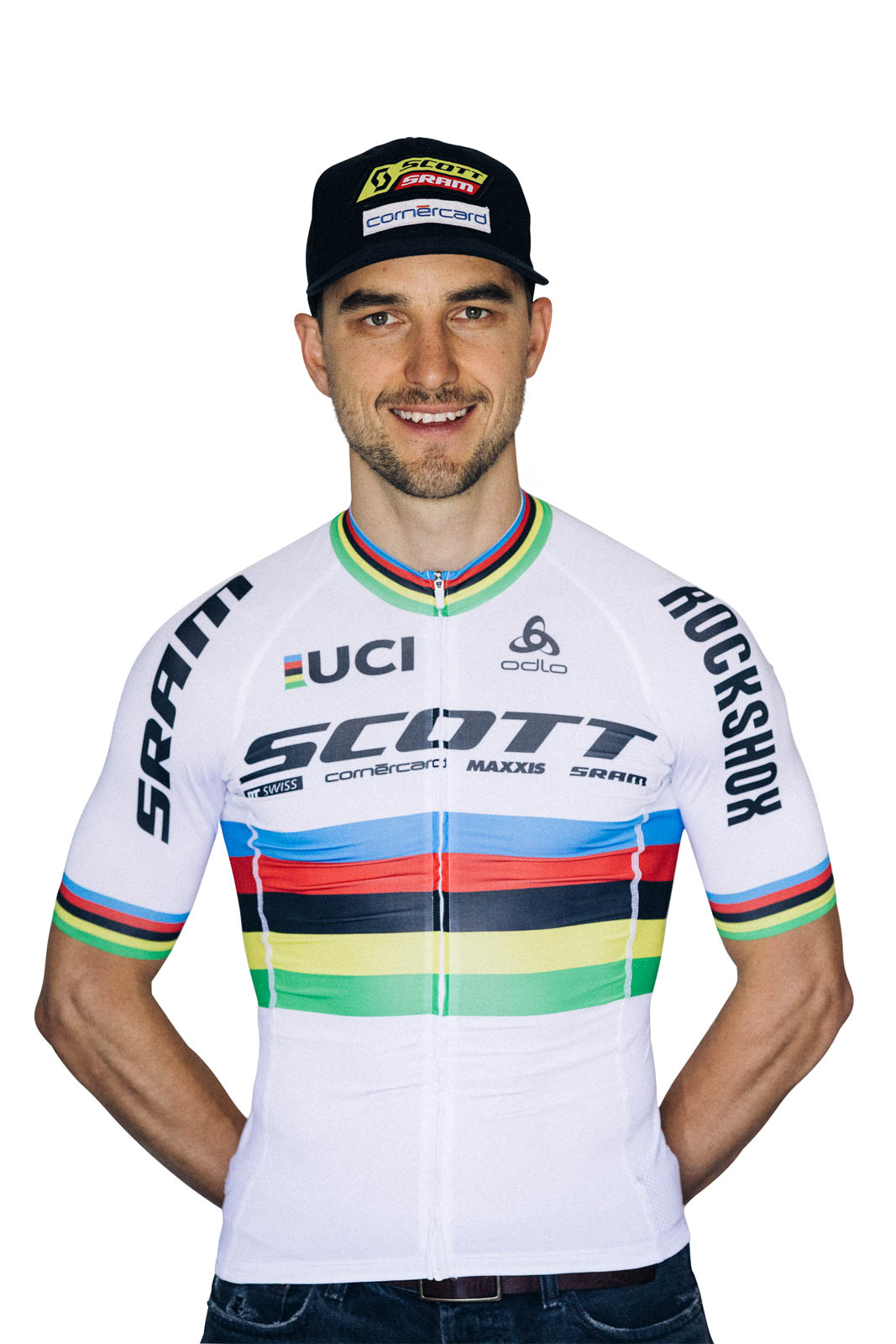 Matthias Stirnemann
Rider
Michiel van der Heijden
Rider
Thomas Frischknecht
Team Director
Yannick "The Mechanic" Gyger
Chief Mechanic